Hunan Manor
339 Lexington Ave, New York, NY 10016
Order now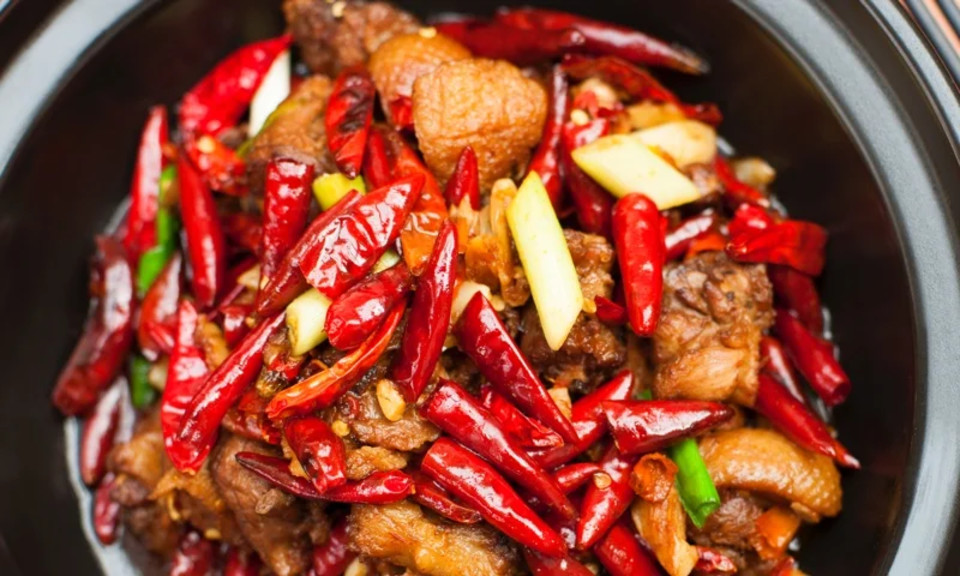 Annie
This place was delicious! I came here on a recommendation from a friend and it did not disappoint. The food was seriously some of the tastiest Szechuan Ive had in nyc. We shared the scallion pancakes and cumin beef. Scallion pancakes were tasty and not oily which I appreciated. I would share this with someone else if you order it. The cumin beef was also a generous portion and had heat if you didnt eat the peppers and was pretty hot if you did have the peppers. I recommend this dish-- I did not want it to end.
Millicent
Walked by and decided to give a try because we had had great food at another branch in Flushing! Ordered shrimp with tofu, cabbage and frog with peppers. All three dishes came within 5 minutes, which was amazing. The food taste pretty good but on the salty side. One minor thing is that the frog was over-chopped and a lot of small bones were in it. Would be much better if the they come in larger bits.
I would probably order lunch from them in the future.
Kristian
didn't expect this place to have such good food because it's not located in a typical spot where you can find truly good Szechuan cuisine. This is a slightly trendier Chinese restaurant with a bar. Even though most diners are not Chinese they give you chopsticks and a teapot, which is standard at an authentic Chinese restaurant. They put spice levels from 1 to 10 next to the dish, which is helpful. But even a level 10 was okay spicy.
Alan
This is one of the few restaurants in the city that I've visited repeatedly. Why? Because the food is excellent and authentic, service is consistently good, and there's usually no wait even on a Friday night! If you like spicy Chinese food and you don't want to wait especially on a weekend night this is the place to check out, great place to order online aswell.
Ann
Ordered a pickup From Hunan Manor, Food was ready , unlike alot of restaurant, says 15 minute but food wasn't ready, second the fish noodle soup were beyond!!! this is probably my best soup noodle i ever had. and they were super polite!!! will order again
Suk
What an addition to the neighborhood. I am not an authority on Hunan-style Chinese, but the food I had was very obviously not your average takeout. It was also very different from the delicious, mostly authentic Szechuan that some Manhattan restaurants excel at. This was like nothing I've eaten in this borough. The American-style Chinese dishes are pushed off into their own little ghetto on the last page of the menu, as they should be.
We had pumpkin cake ($4.95 for four pieces, denser and creamier than at most dim sum places - quite good), as well as a "preserved pork" stir fry (the preservation gives the pork a slightly sour taste, but in a good way). The winner of the day was steamed beef with black bean sauce and chili, which came covered in bright red chopped chilis. It's not the kind of fill-your-mouth spiciness you would get at a Szechuan place, but a bit of spiciness that adds a layer of flavor to that of the sauce and the juicy beef. Both main dishes were $14-16. Service is a little unpolished (they lean right over you when cleaning up plates, chopsticks are not provided by default, etc.), but friendly and
attentive.
GenX
Hunan cuisine is quite heavy on flavors, but it has always been like that throughout Hunan. The dishes at Hunan Manor are quite authentic even though they do have some American Chinese dishes for customers of different preferences as well. Some of their popular demanded dishes were their steamed fish head in chili oil, tea smoked duck, farmhouse stir-fried pork, sour string bean rice noodles, and general tso chicken. Their tea-smoked duck is so delicious, it takes around 15 minutes to make, but the meat is so juicy and flavorful. The fish head takes 25 minutes to steam but you can always order it right away so it will arrive with your other dishes. Every dish pretty much goes well with rice. Definitely worth the try if you're craving something home cooked that's spicy or not.
Terri
Divine; every dish a flavour revelation. The spicy beef had me welling up with pain and delight. The aubergines and beans, and the water spinach, provide crunchy, squishy vegetarian respite. Fat Singapore noodles keep you going. It's full of noisy, largely Asian clients sitting around heaving tables, and is serviced by a couple of wry waiters with a great line in understated humour. This is Chinese like we're not used to - familiar contours, but a whole new palette of flavours and hotness.
Days later, I felt like the old man in Tiki Tiki Tembo - awoken, with the deepest reluctance, from a most wonderful dream, to which I yearned to return.
alan
Definitely a good place for Hunan food. I am originally from China and know exactly how Hunan food taste like, I am glad that this restaurant make some changes(think they make the food not too spicy so that everybody can eat, but still keep the authentic Hunan flavor which is very good)
I went to this place several times and every time I feel like I am the happiest person in the world when I go there.
Also i want to mentioned a Waiter, he is a gentleman probably in his 50-60's, and I love him!He is so polite and nice.
Luis
I saw a server pick his nose then wipe it on the table cloth. Another server was making ridiculous hand gestures and yelling in my face to make more room on the table for what he was holding. Flustered, I ended up spilling a soup bowl all over me. All he said was "be careful" and he never came back to check on me or bring me extra towels. The venue is nicely renovated, but the owner hired untrained servers that are young (all male!?!) and totally unfit for the job.
About us
Asian, Chinese, Dinner, Lunch Specials, Noodles
Today

Delivery: 5:00 PM - 9:45 PM

Takeout: 5:00 PM - 9:45 PM

Delivery

Monday:

11:30 AM - 2:40 PM

Tuesday:

11:30 AM - 2:40 PM

Wednesday:

11:30 AM - 2:40 PM

Thursday:

11:30 AM - 2:40 PM

Friday:

11:30 AM - 2:40 PM

Saturday:

12:00 PM - 2:40 PM

Sunday:

12:00 PM - 2:40 PM

Takeout

Monday:

11:30 AM - 2:40 PM

Tuesday:

11:30 AM - 2:40 PM

Wednesday:

11:30 AM - 2:40 PM

Thursday:

11:30 AM - 2:40 PM

Friday:

11:30 AM - 2:40 PM

Saturday:

12:00 PM - 2:40 PM

Sunday:

12:00 PM - 2:40 PM
Hunan Manor Restaurant welcomes you to a pleasant and memorable dining experience. We feature authentic Hunan Chinese cuisine. We take pride in serving you the finest Hunan cuisine in the area. Our menu is a suggestion for your selection. The sauce is the magic ingredient, which blends the meat, poultry, seafood, or chicken with fresh vegetables to create unique dishes. Each dish is prepared to order. The spicy dishes are prepared to the degree of your taste. Please notice the dishes offered for the diet conscious - low in sodium and mildly seasoned. All dishes are cooked with vegetable oil.